We, Lak, Aran and Marty have a large property in the City of Grand Forks, BC where we run a home based business called Lanna Thai Massage. http://www.lannathaistyle.com We've wanted to add to the products we market to our customers. We already have Herbal balls that we market from Thailand made especially for us but we wanted something else.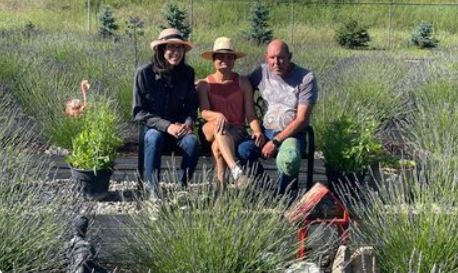 The City decided to install water meters and this raised our irrigation costs significantly. So we looked for alternatives to our grass-clover back field that wasn't brown dust and weeds. We looked at a wildflower meadow and decided on Lavender.
Why Lavender? It's pretty simple actually. Grand Forks has a couple of things that lavender loves as a Mediterranean plant. Hot and dry summers and deep sandy well draining soil. Grand Forks has an abundance of Hot, Dry and lots of Sand in the soil.
We have just finished Phase 1, July 2019 and Phase 2 was planted in 2021 and Phase 3 is planned for 2023. For 2022 we will be growing Asian Vegetables.
891 66th Ave, Grand Forks, BC V0H -1H4
Phone :- 250-442-1411
Email:- lannalavender@gmail.com