We have new products this year,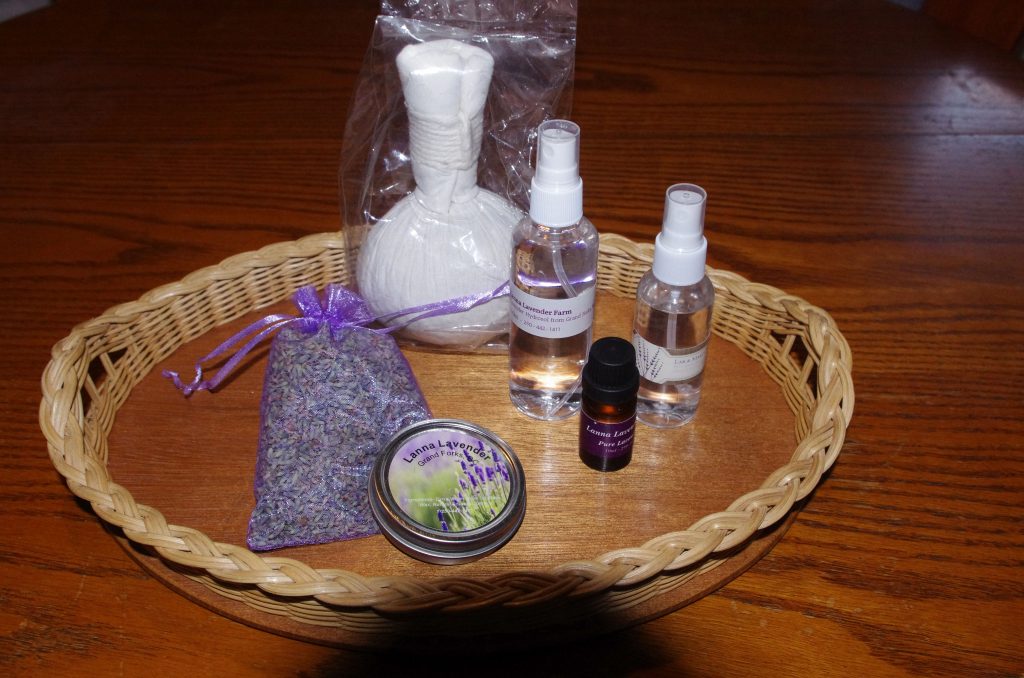 Pure Lavender Oil. We distill from our plants in house to ensure it's quality. We cut the flower stalks from about 3 to 4 plants and then it takes about an hour to distill the oil which is separated from the Hydrosol in a special oil separator. 10 ml is $14.95
Hydrosol 100ml and 50ml. Hydrosol is the second product from distilling. It is basically distilled water with suspended lavender oil molecules in it. We sell 2 sizes of spritzers. It can be used to mist your pillow at night, as an air freshener or any other thing you can think of. It's milder than oil and can be used as a light perfume. $7.50 and $4.00
Lavender Sachets. We take fesh lavender bunches and dry them, then remove th flowers. We then put the dried flowers into Organza bags. You can use these bags in a drawer, hang them in the closet or put them under our pillow at night.. $3.50 each.
Wellness Balm. This is an all purpose balm that can be used for a myriad of uses. It's very gentle on the skin, You can use it on your feet, on sore muscles and other such uses. $8.50
Thai Massage Balls. We import these from Northern Thailand, They are filled with wild sourced and natural herbal ingredients. The best way to use them is to put them in a steamer and then when cool enough you roll them on the skin. We suggest an old tshirt as they do stain, They have a natural anti inflammatory effect that lasts for quite a while. $7.50 each
We sell from single units to bulk orders. Inquiries at lannalavender @gmail.com or 250-442-1411
Pick up only at our farm location in Grand Forks.. Cash or e-Transfer.